Are you looking for the best free chatbots for Facebook Messenger? If you are, keep reading this article. Here, we will show you six of the best Facebook chatbot tools you need to try!
If you run a customer-centric business like an online shop, you know how important it is to engage with visitors. You can turn visitors into potential customers or clients with the right tactics. Besides organic traffic, social media networks are among the best ways to boost conversion rates.
These days, most businesses have their own social media handles.
But do you know how to make social media interactions more efficient?
With a powerful Facebook chatbot tool, you can automate Messenger and generate hassle-free leads. Keep reading this article to learn the best Facebook Messenger chatbots.
Here, we will list six of the best free chatbots for Facebook you should check.
First, let's see why you should start using Facebook chatbots!
Why Using Chatbots for Facebook Is a Good Idea
Studies show that more than 2 billion people use Facebook every day. It is an excellent way to say that some potential clients on Facebook are interested in your product or service. As a business owner, this is a golden opportunity.
Instead of handling the Facebook page manually, you can use a dedicated Facebook chatbot. There are multiple advantages to this option. Here are some of the notable advantages of using chatbots for Facebook.
Always available: There won't be any availability issues. The chatbot will work 24/7 without any break.
Cost-effective: Hiring a social media marketer for your business will cost you thousands of dollars monthly. But a chatbot won't cost that much. So, getting a Facebook Messenger chatbot is a good idea if you need to save expenses.
Faster responses: Once the chatbot finds a response, the tool will instantly reply to the customer. There won't be a considerable delay. This will help you close deals without any delays.
Integration options: By integrating chatbots with third-party apps or services, you can make it even more powerful. For example, you can use payment gateway integrations such as PayPal or Stripe and get paid through Facebook.
Personalization: Using custom tags, you can personalize the message/response. For example, you can address the customer using their first name.
Now you know why using Facebook chatbots is a good idea. Next, let's see the top tools you should use for automating the Facebook page.
Best 6 Free Chatbots for Facebook Messenger
In a nutshell, the best six chatbots for Facebook Messenger are:
Doopchat
ChatFuel
Manychat
Surveybot
Flow XO
SendPulse
Each tool comes with unique features. Below, we will explain what makes each Facebook Messenger chatbot unique. Based on your requirements, you can pick an option.
Without any further ado, let's get into the list.
1. Doopchat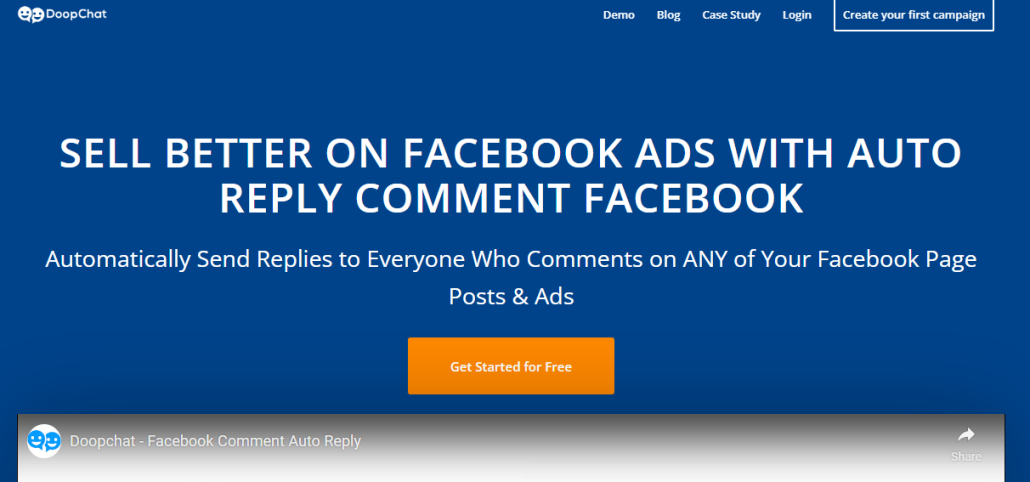 The first tool (and the best) for you is Doopchat. Doopchat is a feature-rich and easy-to-use Facebook automation tool you should use to optimize conversion rates. The tool comes with so many cutting-edge features that you can use to automate your Facebook page's interactions.
The integration process is simple; you can connect your Facebook page with this tool in less than 2 minutes. There are no issues if you have multiple Facebook pages and need to set up automation on all of them. You can easily assign individual automation tasks to the target Facebook page.
Keyword targeting is another cool feature offered by this platform. Once configured, the tool will send a pre-defined message to the user's inbox when someone mentions a specific keyword. While running an online store's Facebook page, when someone says a coupon code or discount code in the comments, you can send the coupon code to the user's inbox.
There won't be any deliverability issues, and your messages will always reach the customer.
Features
High message deliverability rate
Interact with Facebook comments
Keyword targeting
Easy configuration
Works with multiple Facebook pages
Pricing
Doopchat is a premium tool. The premium subscription starts at $39/monthly, $79/quarterly or $295/year.
2. ChatFuel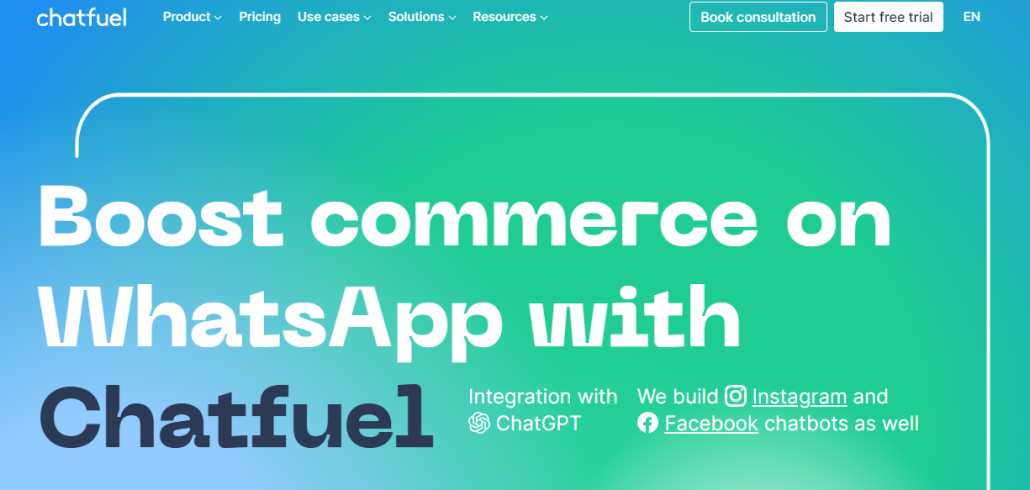 The next one is ChatFuel. If you need to turn your Facebook Messenger contacts to potential customers, use ChatFuel. With this tool, you can answer every message and comment you receive on your Facebook page. And the best part is the tool will work 1000% on autopilot. Once configured, you can keep it running without enough maintenance.
The bot will give you some pre-defined chat templates to use. This way, you do not need to start the configuration from scratch. When you need to save time developing the bot, the pre-defined templates option will be handy.
ChatFuel will also show you detailed statics on how the bot performs. As an eCommerce store owner, learning and optimizing the tool is crucial. The bot will also seek feedback from the customers. This way, you can optimize it more and give users a pleasant experience.
Features
Auto replies
Detailed statistics
Gather feedback
Lead generation
Pre-defined templates
Pricing
ChatFuel is a freemium tool. With the free subscription, you can have 50 conversations a month. The premium subscription starts at $14.99/month.
3. Manychat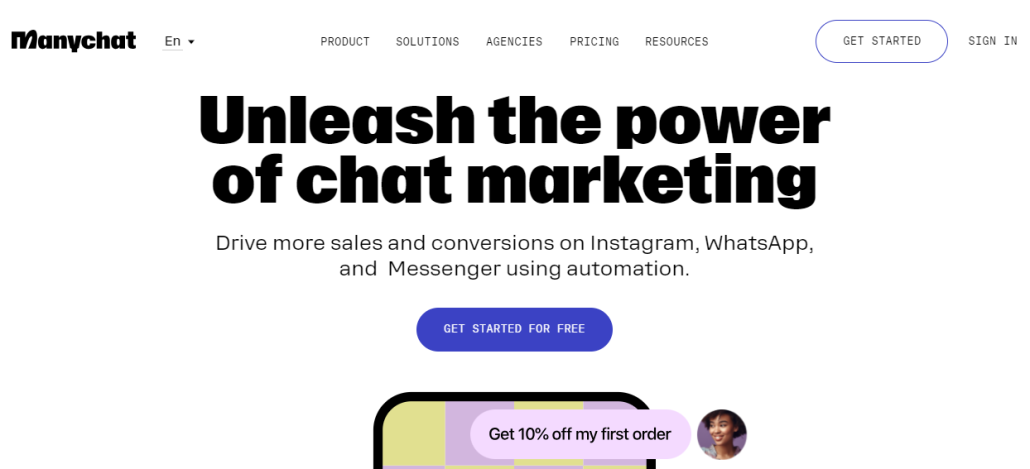 If you need a reliable Facebook Messenger chatbot, check out Manychat. Many popular businesses and eCommerce stores use Manychat. The main advantage of the platform is the detailed analytics feature. The insights will show how many conversations you had and the platform's total sales.
The automation builder is so easy to use. Manychat has a drag-and-drop flow builder to set up the chatbot. You can also configure the tool based on specific conditions, making the process more advanced.
The tool can be integrated with payment gateway integrations like PayPal and Stripe. To get payments online, you can use this feature. Manychat also integrates with popular email marketing services such as ActiveCampaign, ConvertKit, Mailchimp, etc. These integrations will make your lead generation easy.
Features
Custom messenger URL redirection
Analytics
Easy flow builder
Payment gateway integrations
Email marketing services integrations
Pricing
Manychat is a freemium chat tool. The premium subscription starts at $15/month.
4. Surveybot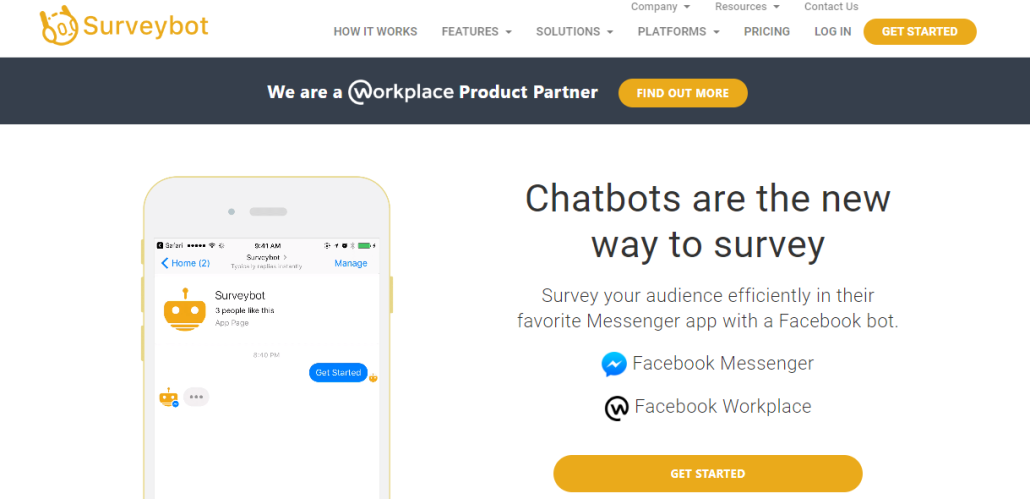 Listen to what they say when you need to improve your customer's experience. Surveys are the best option to know what they think about your business or product. If you need to collect customer responses through Facebook surveys, check out Surveybot. It is one of the best tools for the task with easy setup.
Integrating Surveybot with your Facebook page is simple. Once a fan completes the survey you provided, the admin and team members will get a notification in the registered email address. You can also export every entry to a CSV file. This feature would be helpful when you need a copy of the responses.
Another excellent feature worth mentioning is the anonymous surveys. Some people need to submit surveys anonymously. For those, you can enable this feature. The tool also has a Zapier integration, which you can use to connect multiple apps/services with Surveybot.
Features
Add team members
Unlimited survey questions
Export responses to CSV
Anonymous surveys
Email notifications
Pricing
Surveybot is a freemium tool. With the free subscription, you can collect up to 100 survey responses monthly. The premium subscription starts at $35 a month.
5. Flow XO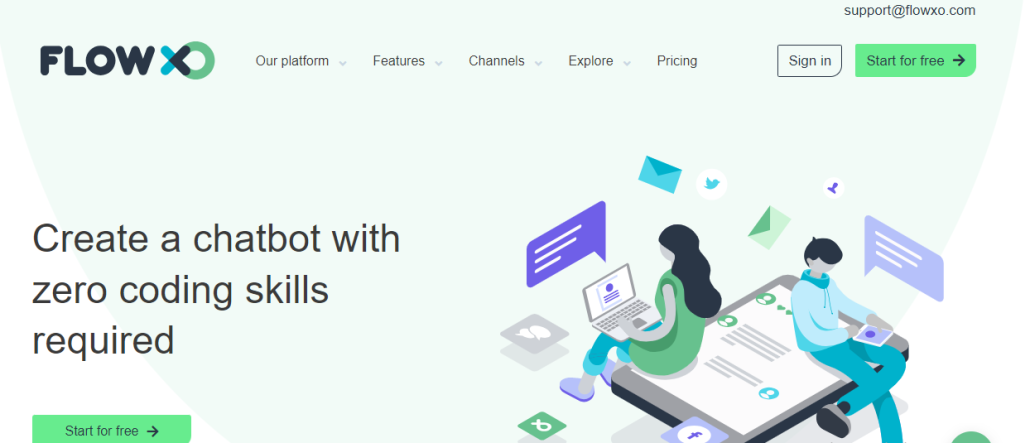 The next one on our list is Flow XO. Flow XO is the right choice if you need a feature-rich Facebook Messenger chatbot with minimalistic configuration options. If you have a team and need to add multiple members to handle the bot, that's possible. The team collaboration feature is something you will love in Flow XO.
From the account panel, you can also see the chatlogs. This will help you understand how the bot performs and where you need to optimize. If you need help with anything, there's an excellent customer support team. You can raise a support ticket, and one of their team members will help you personally.
Flow XO would be ideal if you run an online store and need to accept payments online. This is an excellent feature that you can use to increase the overall revenue of your online business.
Features
Team collaboration
Access to logs
Excellent customer support
Remove branding
Accept payments
Pricing
Flow XO is a freemium platform. Using the free plan, you can have five active bots or flows. Their premium subscription starts at $19 a year.
6. SendPulse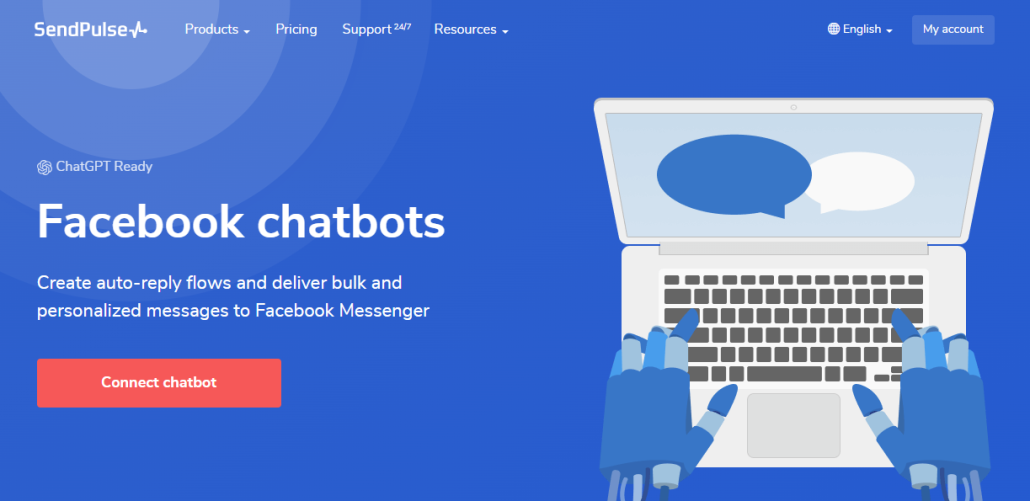 SendPulse is not just a typical Facebook Messenger chatbot. It is an advanced marketing automation tool used by hundreds of thousands of people around the globe. Their Facebook chatbot feature comes with a lot of useful features and integrations. First of all, it is not just a Facebook chatbot tool.
You can also use social media platforms like WhatsApp, Instagram, Telegram, Viber, etc., to set up a chatbot. The configuration is simple, and you do not need any technical knowledge. Another great feature is there won't be a SendPulse branding.
Hence, the tool will be white-labeled entirely, and this is an ideal option if you represent any big businesses or online stores. You can send customer messages based on specific keywords using the custom triggers feature. This is an excellent feature to improve your sales and revenue.
Features
Unlimited messaging
Unlimited bots
Easy integration
White-labeled tool
Accept payments through the bot
Pricing
SendPulse's chatbot is a freemium feature. With the free subscription, you can have up to 500 subscribers. The premium subscription starts at $8 a month or $96 a year, and all the restrictions will be removed.
Conclusion
Chatbots are among the best ways to increase conversion rates and sales through Facebook. So many free and premium chatbots are available optimized for eCommerce. In this article, we have shown you six of the best Facebook Messenger chatbots.
Doopchat is the best option if you are looking for a premium option. On the other hand, if you need to start with any free options, you can choose any other ones on the list. If you are serious about the business, you can upgrade to a premium version later.
Which free chatbot for Facebook Messenger are you going to use?
Let us know in the comments!
https://doopchat.com/wp-content/uploads/2023/10/Top-Free-Chatbots-for-Facebook-Messenger.png
426
1210
Sreehari P Raju
https://doopchat.com/wp-content/uploads/2017/10/doopchat-logo.png
Sreehari P Raju
2023-10-20 13:45:28
2023-10-24 14:03:22
6 Best Free Chatbots for Facebook Messenger