Today, Affiliate Marketing is no longer a strange terminology. It quickly entered the Vietnamese market and became a popular form for businesses to market their products and services. Above all, it also brings high revenue and is an effective channel to make money online compared to other forms.
In just a short period, Affiliate Marketing has been promoted with an impressive breakthrough and has become one of the top 4 digital marketing tools of interest.
As a beginner in the marketing field, do you want to earn money from that business?
Let's delve into this article to explore some of the affiliate programs without a website.
Table of Contents
What Is Affiliate Marketing?
Affiliate Marketing is a product promotion model in which publishers based on their capabilities and their knowledge implement marketing campaigns to attract customers to use merchant's services.
Publishers will receive commissions from suppliers when they successfully influence users to visit the website and become customers of the manufacturer. Commonly used methods are referrals, invitations, discounts, etc. That also means publishers will act as a third party, connecting the company that wants to advertise the product with customers.
Affiliate marketing is popular because it creates a win-win situation for all parties involved. Companies only pay commissions on sales generated and affiliate marketers earn passive income over time. This is a low-risk marketing channel that benefits both the company and the promoter.
How Does an Affiliate Program Work?
If the publishers own a website or social networking site, affiliate marketing works will be as follows:
Customers visit the Publisher's website/social networking site
Customers will see the Publisher's advertising banner/link and click on the affiliate network's tracking link.
Clicks are tracked by cookies and the affiliate network of the device the customer uses will be saved.
The customer completes the action requested by the supplier (it could be a purchase, filling out a registration form, etc.)
Merchants will receive reports from the affiliate network about recorded actions.
Affiliate network will notify the merchant of the order and the merchant agrees to pay a commission for that recorded order.
Affiliate networks pay commissions to publishers.
Merchants often operate with affiliate marketing platforms to track their affiliate campaigns. The mission of affiliate platforms is to provide technical tools to help track affiliate links placed below text links or banners on their websites.
When customers click those links, the cookie code will be attached to their device and recorded by the affiliate platform. When a customer completes an order on the Supplier's website, the affiliate platform will check the cookie if it is one of the network's Publishers, and the order will be recorded on the network system. Based on the affiliate platform's system, both merchants and publishers can track orders and commissions received from affiliate activities.
Best Affiliate Programs for Beginners Without a Website
Currently, there are many forms of affiliate marketing taking place in the market, especially with e-commerce platforms. Businesses are expanding their business by creating many affiliate marketing programs to reach as many customers as possible.
You understand the benefits of this model and want to join to earn extra money, but you don't know how to create professional websites. Don't worry, below are affiliate marketing programs that we have researched for beginners, no need to have a website.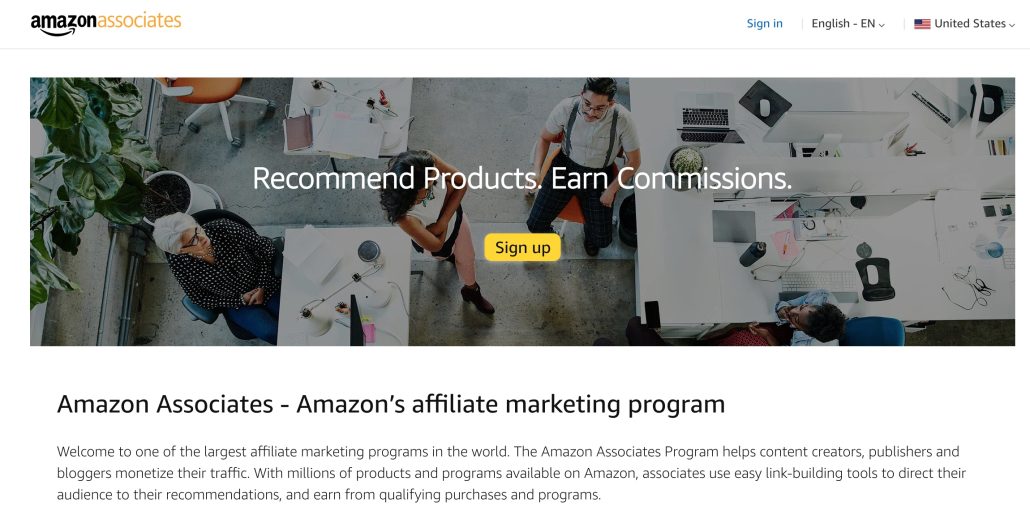 Amazon is the world's leading e-commerce platform and is known by many customers. Additionally, Amazon Affiliate is one of the largest affiliate networks in the world that helps content creators earn money from the traffic to their platform.
With millions of products to choose from on Amazon.com, Amazon Associates uses easy affiliate link generation tools to direct their readers to products and earn money from those successful transactions.
More specifically, publishers (KOLs, KOCs, influencers, etc.) will promote products from Amazon.com on their advertisement platform by placing links. When customers click on a link and buy a product from Amazon, Amazon shares a commission with them.
To become an Amazon Affiliate, you don't necessarily have to create a website or a blog, but now you can use social networks like YouTube, Facebook, Twitter, and even TikTok to create content. It's called influencers who can earn commission by promoting Amazon products through their social media accounts. It will help if the accounts already have a decent amount of content and require to have at least 1,000 organic followers with substantive engagement.
Amazon's commission is quite high, influencers can receive a commission from 4% – 15% of the selling price of the products which they refer a friend or anyone to buy on Amazon. With Amazon Associates, just invest a small amount of capital but have access and sell a lot of different items.
The process of registering to join the Amazon Associates Program is not too strict. Therefore, this is also one of the jobs that is very suitable for all people who want to make money online.
Pros:
Millions of products to choose from on Amazon.com.
Amazon.com is the world's leading e-commerce platform.
With more than 300 million customers worldwide, Amazon has built a rich and diverse online shopping community.
Low initial investment.
Sales and marketing policies on Amazon focus on improving user experience so that all parties involved benefit.
High and diverse commission for many product categories.
Cons:
Amazon's cookie life only lasts 24 hours.
Amazon often reduces commissions and cuts affiliate rates.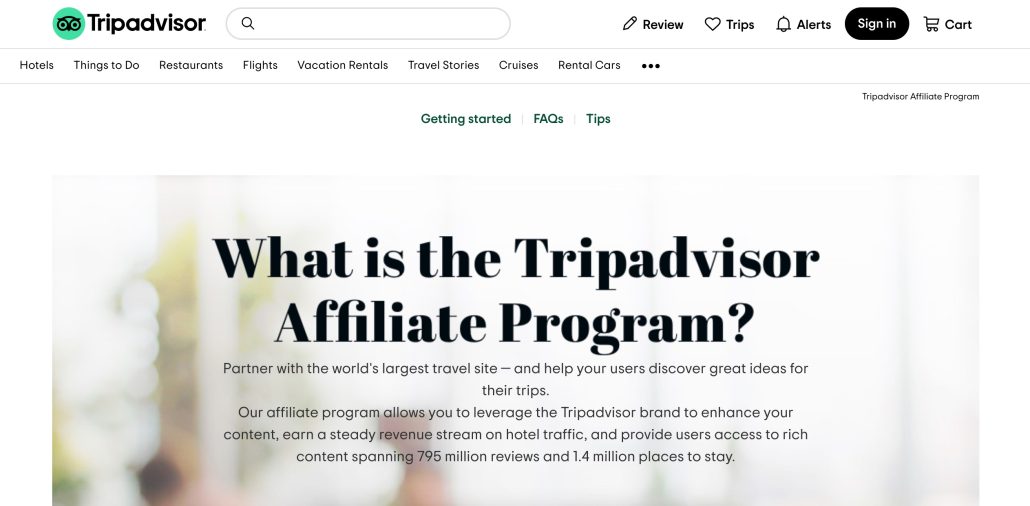 Another niche to earn money from Affiliate programs is the travel field. This is an extremely interesting form, because what's better than traveling while recording your own experiences while also making money from those experiences?
If you are also a travel enthusiast, the opportunity to make money even while traveling is now completely possible. With content on the topic of travel to post on social media platforms, you can apply many methods to make money.
TripAdvisor is one of the world's largest travel sites and hotel reviews, helping millions of people find great places to stay, visit and eat around the world. TripAdvisor also offers various tools to monetize travel traffic for all types of social platforms. Therefore, this program is suitable for all people who love travel, as long as own a platform to share travel projects.
While other affiliate programs reward you with a commission on completed purchases, TripAdvisor works on a different affiliate model. Influencers receive 50% of the commission generated when referrals click on links or ads on the TripAdvisor website.
TripAdvisor offers a 14-day introductory time frame. If your user returns to Tripadvisor within those 14 days and clicks on a partner's site, you can earn a commission — even if they return on a different device or across channels.
If you want to be an affiliate of TripAdvisor, it's very easy to register, especially since you won't​​ need to invest capital.
Pros:
TripAdvisor is used by millions of people around the world.
The Tripadvisor affiliate program is suitable for owners of various travel projects.
TripAdvisor offers 14-day cookie lifetime.
TripAdvisor has 110+ trusted travel brands.
With TripAdvisor, you will be paid per click.
Cons:
Limit your commission per referral.
TripAdvisor only pays commissions on hotels.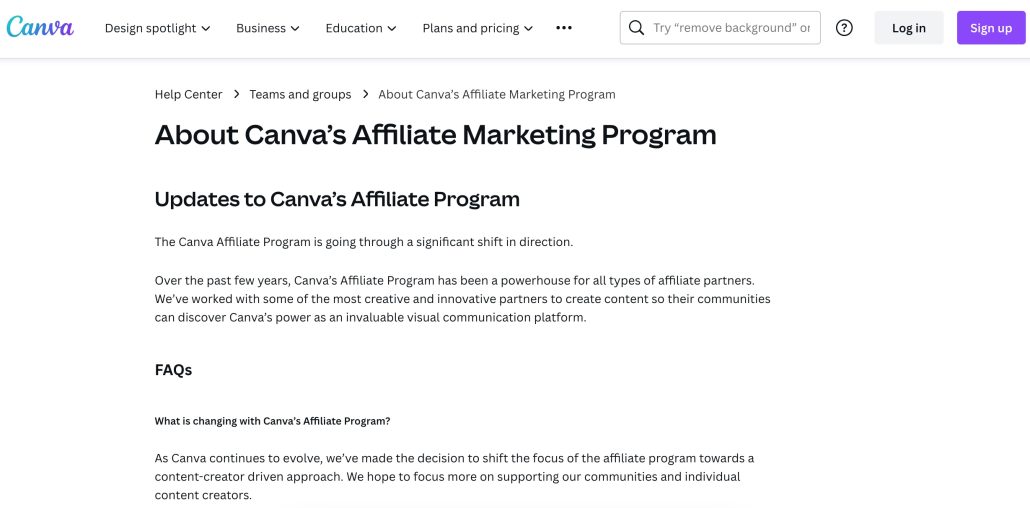 A completely new niche of affiliate marketing is the Canva Pro Affiliate program. Canva is an online design and publishing tool with a great mission to make it easy for anyone in the world to design anything and post it anywhere. Aiming for the most optimal, practical, and effective solutions, Canva helps users turn complicated things into simple ones.
If you have an interest in design, the Canva Pro Affiliate Program might be the right option for you. With this program, your task is to market users to buy Canva Pro accounts using your link. For each successful purchase, you will receive a commission from the system.
This is also a high-paying affiliate program. However, the commissions are divided into 2 types which are based on the user's Canva Pro plan. More details, with Canva Pro Annual membership, you can earn a 15% commission for every individual sale. With a monthly membership, you will earn an 80% commission for the first two months of membership.
You might be a design teacher or an influencer on design who has a large subscriber base with a passion for graphic design. Canva Pro Affiliate is the perfect program for you to earn money.
Assuming your follower sign up to Canval for a free trial, within 30 days, if they upgrade to a pro plan, you will earn a commission. Because the Canva cookie lasts for 30 days.
However, Canva is also a selective affiliate program, so it's quite difficult to join this program. You need to have an impressive background before thinking about Canva Affiliate.
Pros:
It is a popular design platform, known to many people.
Easy to Use Interface
Commission rates are high. Earn 15%-80% for a single customer sale.
This program has a quick payment process.
The cookies last 30 days.
Cons:
Canva has a low acceptance rate for affiliates.
The commission is only paid once per user, it applies to the first two months of the subscription.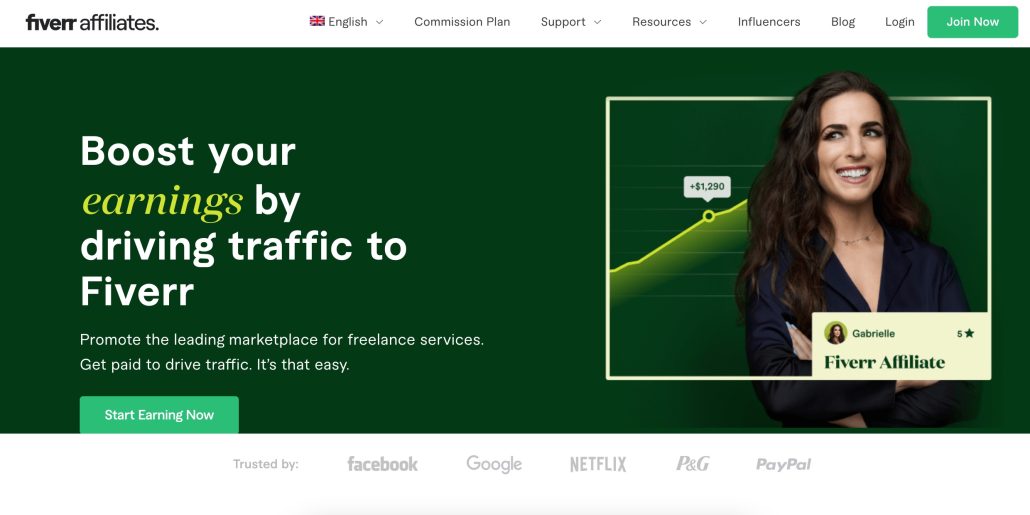 Fiverr is considered one of the best marketplaces for freelancers – and Fiverr's affiliate program is a great opportunity to make money online. With Fiverr, all people can join the affiliate program, even you don't need to have a website.
The Fiverr affiliate program allows users to earn commissions by recommending products and services available on the platform. Note that Fiverr doesn't provide the services posted on that website, it just acts as an intermediary to ensure the safety of buyers and sellers. Fiverr is also an e-commerce platform but it is about services and jobs in all niches.
Fiverr has a dynamic commission structure. They will offer 2 types of commission:
Fiverr CPA: You will receive a commission from 15 – 150 USD for first-time service buyers on Fiverr. CPA $10 plus 10 percent of revenue for purchases made within the first 12 months.
Fiverr Hybrid: You will have a flat commission of $10 for first-time buyers, plus a 10% share of the commission generated by these buyers through your secondary link.
If you have an interest in the Fiverr Affiliates Program, it's quite easy to sign up for an account with Fiverr. Once completed, Fiverr will provide your unique ID, you can track the number of customers you promoted, the number of link clicks, and the number of Fiverr registrations through your link.
Additionally, your Fiverr Affiliate link includes a 12-month cookie tracking code. This means if a user clicks on your Fiverr affiliate marketing link, as long as within 12 months they register and make a transaction with Fiverr initially, you will be charged a commission.
Pros:
It's easy to get accepted into the program.
It's a huge marketplace, you will have a lot of services to choose from.
It has a generous cookie duration of 12 months.
Cons:
Commissions are limited to first-time referrals.
High competition.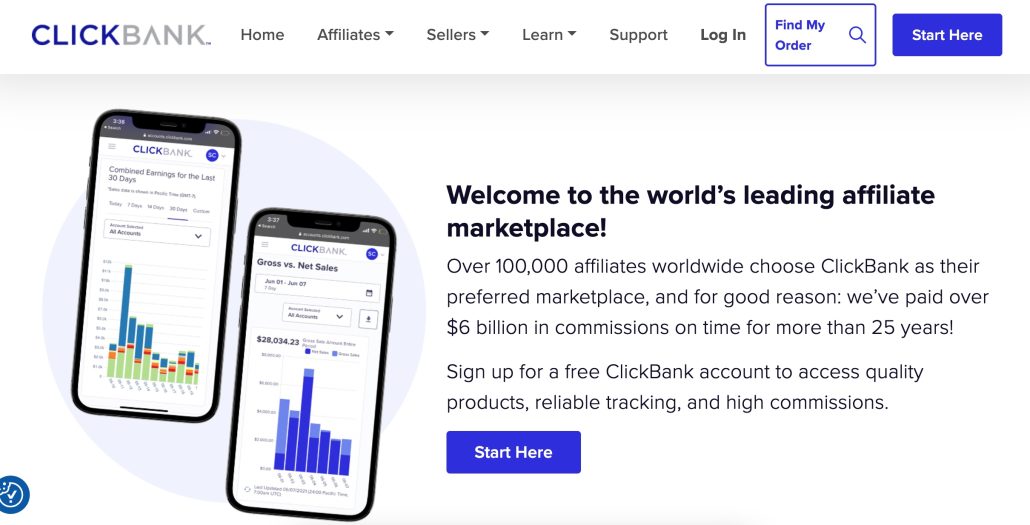 Clickbank is an affiliate marketing network for digital products, more specifically as a Marketplace specializing in digital products where products serving online needs such as eBooks, e-business, sports, health & fitness, and many products in many different fields. With over 200 million users, ClickBank is the world's largest affiliate network.
ClickBank allows product manufacturers to create a sales page and submit their products to be sold on ClickBank's platform. Here, you can join as a publisher or affiliate.
Registering a Clickbank account is extremely quick and completely free. You just need to access Clickbank's website to register an account and you can immediately run the campaign. This is the best affiliate program for beginners without a website or any experience.
Commissions on Clickbank are quite high, with some products offering commissions of up to 100%. Moreover, if you promote products from the same supplier and a customer ends up buying a different product from that same supplier, you will still earn a commission.
The commission rate you receive depends on the specific product you choose to advertise. If you opt to promote a product that has a low commission rate, you may find it easy to compete with others.
Pros:
The market is large, many industries to choose from.
You can join completely free, and registration is also simple.
High commission, ranging from 30-100%.
The regulations on Clickbank are not too restrictive, allowing Publishers to freely promote the way they want.
Cons:
Many participants lead to high competition.
Facing language barriers
Wrapping Up
Above are some of the best affiliate programs that we researched and collected for beginners without a website. So, by becoming an affiliate, you can receive passive income, even when you are sleeping. As the number of visitors increases – your income also increases.
Let's start and build up your platform with quality content and research carefully the niche before joining any affiliate programs.
Hope our article will help you find the best affiliate program that is suitable for your platform and your desire!
https://doopchat.com/wp-content/uploads/2023/09/Best-Affiliate-Programs-for-Beginners-Without-a-Website.png
426
1210
Vicky Hoang
https://doopchat.com/wp-content/uploads/2017/10/doopchat-logo.png
Vicky Hoang
2023-09-22 08:43:31
2023-09-22 10:04:29
Top 5 Best Affiliate Programs for Beginners Without a Website in 2023